Repositioning Cruises, and other Special Cruise Events
Repositioning cruises are one-way voyages created when a ship relocates to a different region – for example, from Alaska to Hawaii – because of the changing seasons. Cruise operators usually sell these one-way trips at a discount rather than sail the ships with no passengers. These cruises are often themed -- with subjects ranging from theater to gourmet cooking -- or are enhanced with guest lecturers.
How to find a repositioning cruise? Look at regions that have very specific seasons. Ships that spend summers in Alaska have no choice but to relocate in September or October, and offer several unique itineraries. Also look for cruises when ships shift from the East Coast to Europe for a season of sailing in the Mediterranean, which often happens in the fall and spring.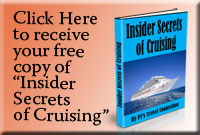 A repositioning cruise allows you to visit a large part of the Caribbean or an entire coast line all at once, cross the ocean with stops in interesting places, or even visit several continents on one trip.
Relocation cruises also incorporate more sea days than normal cruises, offering a more relaxing vacation at sea. Finally, when ships reposition, you can save money: daily rates for cruise ships that are repositioning are often much lower than for "regular" sailings.
Singles Cruises
Singles cruises are on the rise and many cruise lines carve out itineraries specifically for singles. The traditional downside of the singles cruise – having to pay a premium for room and board – has been mitigated somewhat by travel companies that can try to match you up with a cabin mate. These companies also book groups of singles on regular cruises, insuring you'll have single company on board. SinglesCruise.com is the largest of these, averaging one cruise per month for up to 500 single passengers. They offer to match guests with the same sex and smoking preference, but give no guarantees for compatibility. If they can't make a match, the single supplement price will apply.
Some cruise lines offer singles cruises featuring exclusive cocktail parties, mixers, games, group excursions, single-mingle dining and also offer roommate matching to avoid the single supplement charge.
Family Reunion Cruises
Family cruising is one of the fastest-growing niches in the industry. Family reunion cruises offer multi-generations the experience of visiting a variety of different ports, cultures and countries with minimal hassle. Many ships have activities that allow children and grandparents to do things together, and for parents to spend time alone.