Norwegian Cruise Lines
Read reviews and comment about Norwegian Cruise Lines here.
Based in Miami, renowned Norwegian Cruise Lines revolutionized the cruise experience with its "Freestyle Cruising" program. Meant to avoid standard cruise line traditions for dress codes, dining options and entertainment offerings, Norwegian Cruise Lines (commonly misspelled as "Norweigan cruise lines," "Norweigan cruise line," "Norweigen cruise line") has inspired other operators to imitate its successful "freestyle" concepts.
They have also pioneered the homeland cruising specialty, featuring departures from a number of continental U.S. ports that include New York, Seattle, Charleston, Houston, New Orleans, Boston, and Philadelphia.
Seeking to innovate even further, this cruise Line is testing a number of land-based amenities, like luxury villas, martini and champagne bars, interconnecting cabins, onboard bowling alleys, and electronic restaurant reservation systems. In addition, it is the only cruise operator to offer Hawaiian itineraries all year long.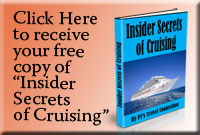 Norwegian Cruise Line operates under two brands: Norwegian Cruise Line and NCL America. Currently, the line is focusing efforts on its designed-for-freestyle models that all launched in 2001-2002, including Norwegian Sun, Norwegian Star, and Norwegian Dawn.
They also include more contemporary ships such as Norwegian Jewel, Norwegian Gem and Norwegian Pearl, which debuted more recently.
The NCL America line currently operates just one ship as Pride of Hawaii. Pride of Aloha was recently re-launched with a new name -- Norwegian Sky – as well as a new itinerary (three- and four-night Bahamas cruises out of Miami).
Amenities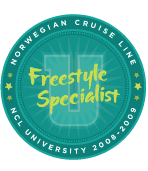 Norwegian Cruise Lines offers a "fusion" cruising experience of traditional and innovative features and settings. The Decor is a mix of modern and traditional, while the dress code is flexible and casual.
All their cruise ships have multiple restaurants, bars and lounges. They are an innovator in entertainment, offering Broadway musical productions, comedy from Second City, live bands, lounge singers, piano bars and disc jockeys in the discos. The Mandara Spas offer luxury treatments, including teeth whitening and acupuncture.
There are plenty of children's programs, ranging from parties and video arcades to kid-friendly learning centers. For older children, there are teen centers, discos and kids' pools.
All ships have a variety of dining venues, from French bistros to steakhouses and sushi. Room service is available 24 hours a day. Not to be missed is their Chocoholic's Buffet, held once per cruise on each ship.
Itineraries
Through its homeland cruising program, Norwegian is the leader in roundtrip seven-day cruises from U.S. and Canadian ports. Ships sail each season from Boston, Charleston, Honolulu, Los Angeles, New Orleans, Miami, Seattle and Vancouver, and year-round from New York.
The Norwegian Alaska cruise offers 7- and 18-day itineraries aboard the line's youngest ships. A Norwegian Alaska cruise is the epitome of freestyle cruising in a relaxed atmosphere that allows you to enjoy a little wild life onboard or view the Alaskan wildlife from a glacier.
In addition to Alaska, Hawaii and the Caribbean, Norwegian Cruise Line sails to Mexico and South America. Beginning in 2008, they increased their presence in Europe and will offer a variety of itineraries in regions such as the Baltic, eastern and western Mediterranean, and the British Isles.