Cheap Mexico Cruises
More information on our site about Cheap Mexico Cruises:
The Mexican Riviera is the fourth most popular cruise destination in the world and because cheap Mexico cruises are available if you know where to look, it is a destination that is rapidly building a reputation as an outstanding Caribbean alternative.
The Mexican Pacific coast, known as the Mexican Riviera in the cruise industry, is famous for immaculate beaches set against stunning cliffs, hidden coves and lush jungle landscape.
Major cruise lines offering Mexican Riviera itineraries include Carnival, Crystal, Disney, Holland America, Norwegian and Royal Caribbean. If you consult our travel website, you can find relatively cheap cruises to Mexico available year round.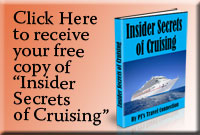 Variety and flexibility are key reasons why Mexican Riviera cruises are so popular, and those seeking cheap Mexico cruises will need to be a little flexible with their schedules. The most popular Carnival Mexico cruise is the three-night cruise itinerary from San Diego and Los Angeles to Ensenada. Another popular Carnival Mexico cruise option is the four-night cruise to Ensenada that includes a stop on Catalina Island.
The seven-day cruises are the most popular option in the Mexican Riviera market, and some lines offer 8-, 10-, 11- and 14-day itineraries as well. Some of the most popular ports of call include:
Acapulco
Acapulco has been known for years as a hangout for the international jet set, and it hasn't lost its luster as the number of luxury resort hotels continues to grow. The popular beaches provide a number of opportunities to enjoy water sports and sailing, and the area's main attraction is the cliff diving at La Quebrada.
Cabo San Lucas
A frequent vacation spot of Hollywood celebrities, Cabo San Lucas lies at the southernmost tip of Baja California. The area's beautiful scenery and abundant wildlife makes it a favorite stopover for cruise lines, where guests can enjoy snorkeling, scuba diving and parasailing. The sport fishing off Cabo is legendary, and the whale watching season from December to March provides entertainment for all.
Catalina
Catalina is an island 26 miles off the Southern California coast that is a prime tourist attraction where visitors stroll and shop the main town of Avalon, which is lined with boutiques, shops and restaurants. There are few cars on the island; transportation is either on foot, by bike or golf cart.
Ensenada
This busy seaport is known for deep sea sport fishing, fabulous local lobster, and great shopping along its Avenida Primera. I can't say enough about the fish tacos down by the fish market. They are fabulous!
In addition to a beautiful coastline, Ensenada is famous for "La Bufadora," an immensely strong blowhole where tourists gather to experience the natural geyser. Don't buy a sling-shot at the street vendors' stalls. They won't let you take "weapons" back onto the ship.
Mazatlan
Mazatlan is the largest port on Mexico's Pacific coast and offers surfing, sailing and scuba diving as well as world class sport fishing. Mazatlan's 10-mile seaside promenade features merchants selling jewelry and other trinkets as well as a number of food stands and restaurants.
Puerto Vallarta
Puerto Vallarta is known for its booming nightlife. Its main architectural feature is a walkway along the bay that is lined with sculptures, many of which are said to bring good luck. Puerto Vallarta's beaches are renowned for great swimming and other water sports.