Cruise Reviews for Cruise Addicts
Need a great cruise review? Well, you have come to the right place. On our site, we have reviews for all the major players, Disney, Carnival, Holland America, Norwegian, Princess, and Royal Caribbean. If we don't have a page for a cruise you are interested in, please let us know using our contact us form.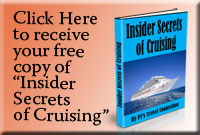 If you want to tell us about your own experience, please do! We would love to hear from you. Many of our visitors are experienced cruisers, while the other half are first timers, trying to decide which cruise to go on. When it is your "first time," you really want to pick the cruise that is right for you.
Experienced cruisers, that is where you come in. You can share your experiences, good and bad, so the first timers can get a better idea of which cruise is best for them.
Oh, and first timers, when you get back, let us know how it went. We would love to hear from you too!
We have broken our cruise reviews into individual pages based on the cruise lines. We know that each cruise line has different size ships and different itineraries, but it at least gives our cruise reviews an order.
Click on a link below to visit that cruise line's review page.
Carnival Cruise Line Reviews
Disney Cruise Line Reviews
Holland America Cruise Line Reviews
Norwegian Cruise Line Reviews
Princess Cruise Line Reviews
Royal Caribbean Cruise Line Reviews