Holland America Cruise Line
Read reviews or comment on Holland America Cruise Lines
Holland America Cruise Lines started as the Rotterdam-based Netherlands-America Steamship Company in 1873, but soon became known as the Holland America Line because its main business was transporting immigrants from Holland to America. The company focused on the trans-Atlantic passenger and commercial freight shipping business until 1973, when it built its first cruise ship, and for the past 35 years, Holland America Cruises has concentrated on being a leader in the cruise travel business.
In 1978, Holland America Cruise Lines moved its headquarters from Rotterdam to Stamford, Connecticut, and again five years later to Seattle, Washington, to consolidate operations with Westours, an Alaska tour company that Holland America had acquired. In 1989, Carnival Corporation acquired the Holland America Cruises, which remains headquartered in Seattle today.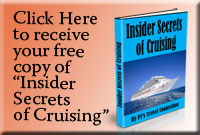 At the end of 2003, Holland America Cruises announced its "Signature of Excellence" initiative, spending over $225 million to enhance its guest accommodations, public rooms, dining, and guest service programs. Some of the changes include an early embarkation program, a Culinary Arts Center for cooking classes, waiter service in the ships' casual dining venue, exclusive "Medallion Shore Excursions" at its exotic destinations, an expanded "Speakers Program", new Greenhouse Spas on all ships, the "Explorations Cafe" to serve as a multidimensional venue for onboard programming, 24-hour concierge service for suite guests, and more extensive youth programs.
Holland America Cruise Line's contemporary Vista-class of vessels includes ocean views in 85% of the staterooms, and verandas in 67% of the staterooms; each stateroom is also equipped with a data port connection. The ships feature glass-walled exterior elevators that provide magnificent panoramic views. The alternative restaurant, spa, lounge, penthouse veranda suites and Internet cafe on the Vista-class ships are the largest in the Holland America Cruise Line fleet.
In June 2008, Holland America Cruises unveiled its next new series -- the Signature class of vessels -- a slightly reconfigured design from the Vista-class with cabins for an additional 256 passengers, the Asian-themed Tamarind alternative restaurant, and the relocation of the popular Explorations by New York Times library/coffee bar to a space adjacent to the Crow's Nest.
Holland America ships have a number of traditions, including a daily afternoon tea, gentlemen hosts for dancing on cruises over 10 days, and an old-world "chime ringing" to announce dinner. Holland America Cruise Lines offers some special-touch services not found on other lines. In warm weather, waiters are on-deck with tall glasses of iced tea or lemonade. In Alaska, you'll warm up with mugs of delicious Dutch pea soup.
Holland America Cruises offers one of the most varied fleet schedules; its ships sail to over 280 ports of call on all seven continents. Its itineraries are more diverse than most cruise lines, because they sail from so many different ports.
Holland America was one of the first companies to offer Alaskan cruises, and a Holland America cruise to Alaska gives you several options for seven-day adventures. The Holland America cruise to Alaska packages also feature the new "McKinley Explorer" railcars, the largest domed railcars ever built.