Affordable Budget Cruises Brings You the Best Cruise Lines for the Money
Affordable Budget Cruises, where the best deals on the best cruise lines are waiting for you.
Affordable Budget Cruises customizes cruise experiences tailored specifically for you and what you want to do. Everyone is different, and the best cruise lines have recognized this by tailoring their offers to match every wish.
Let us help you find the best Alaskan cruises and Mexican cruises for families, couples, singles and seniors. We can also help you celebrate that special event, by recommending the best cruises for weddings, reunions, anniversaries and more.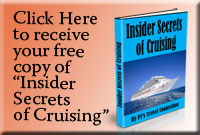 We are specialists in West Coast cruises, including Mexican cruises, Hawaiian cruises and Alaska cruises. You can spend your time scouring the thousands of cruise reviews on the Internet, or you can contact us for a customized itinerary at no cost to you.
Our expertise will provide you with the assurance and knowledge that your cruise will be exactly what you want – whether you're looking for a 7-day Mexican cruises up and down the Pacific Gold Coast, or perhaps 14- or 21-day Hawaiian cruises to track migrating whales, or a quick trip to Alaska on a luxury liner - we will plan it as carefully as you would yourself.
You can trust Affordable Budget Cruises to provide you with smooth sailing when it comes to planning your cruise vacation.
Relax . . . we'll get you there!
We have prepared a special report for you. Discover the top 10 cruising desitinations and the do's and don'ts of cruising.
You can use the form on this page to contact us. We strive to be of service to you and help you plan your dream vacation.
Alaska cruise options are plentiful and introduce you to a state that has a rich natural heritage full of wildlife. Alaska cruise options feature a variety of ports also.
An Alaska expedition cruise provides a taste of exploration and adventure off the beaten path. On an Alaska expedition cruise, the ships are small and able to more easily visit out-of-the-way ports.
The Mexican Riviera is the fourth most popular cruise destination in the world and even though cheap Mexico cruises are increasingly difficult to find, it is a fun and exciting destination.
Carnival Cruise Lines is the world's largest cruise line. The Carnival Cruise Lines fleet of 22 "Fun Ships" features everything you would find in a quality land-based resort.
A Disney cruise vacation aboard the Disney Magic or Disney Wonder will take you back to bygone days of luxurious ocean liners, but with all the modern amenities.
The Holland America Cruise Line is one of the oldest cruise operators in business today. Holland America Cruise Lines offers one of the most varied fleet schedules as well as special-touch services.
Renowned Norwegian Cruise Lines revolutionized the cruise experience with its "Freestyle Cruising" program. Meant to avoid standard cruise line traditions for dress codes, dining options etc.
Princess Cruise Lines has 16 ships sailing over 100 itineraries that range from one to 107 days and visit almost 280 ports. Princess Cruise Lines is known for its innovative features, amenities...
Repositioning cruises are one-way voyages created when a ship relocates to a different region – for example, from Alaska to Hawaii – because of the changing seasons.
Affordable Budget Travel customizes group travel such as family reunion cruises, singles cruises, wedding cruises and Christian cruises, specifically for you and what you want to do.
These days, the cheapest cruise prices are coming from a surprising source -- the luxury lines. You can find the cheapest cruise prices for worldwide itineraries through a knowledgeable travel agent.
Read and submit cruise reviews for Carnival, Disney, Holland America, Norwegian, Princess and Royal Caribbean cruise lines
Would you like to share your knowledge about best cruise lines? Great, find out how you can submit your story or tip here.