Princess Cruise Lines
Read reviews and comment about Princess Cruise Lines here.
Princess Cruise Lines began its operations in 1965 as a converted ferry chartered from the Canadian Pacific Railway, transporting passengers between Los Angeles and the Mexican Riviera. Today, Princess Cruise Lines has 16 ships sailing over 100 itineraries that range from one to 107 days and visit almost 280 ports.
Their Cruise Line fleet is among the industry's most modern; the line has launched half its ships since 2000.
Following a 2003 merger, Princess Cruises became part of the industry's giant Carnival Corporation.
Amenities
Princess Cruise Lines is known for its innovative features, amenities and programs. For example, its "Anytime Dining" program allows passengers to dine when and with whom they please. The line's Diamond Princess offers one traditional style dining room with set seating times, three smaller "Anytime Dining" rooms and a fourth "hybrid" dining room that features a traditional early seating, with "Anytime Dining" offered later in the evening.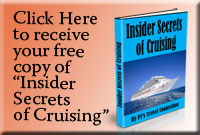 The cruise line also features a vast array of alternative eateries. The Bayou Cafe & Steakhouse, available on two Princess Cruise ships, is the industry's first New Orleans-style restaurant featuring Cajun and Creole cuisine. Two other ships have a Crown Grill, featuring an open, theater-style kitchen where chefs prepare seafood, steaks and chops cooked to order.
Another popular concept is the "Chef's Table", which gives passengers the chance to enjoy hors d'oeurves and champagne in the galley, followed by a multi-course tasting menu with wine pairing at the Chef's VIP table in the dining room.
The ScholarShip@Sea program features learning experiences in areas ranging from cooking to ceramics. Computers@sea is another program where you can learn software programs, including Photoshop, HTML and Web design.
Popular with passengers is the Movies Under the Stars program, featuring movies on a giant LED screen above the main pool. This program is available on the Emerald, Crown, Caribbean, Grand and Sea Princess. Princess Cruises is also the first line to bring Nintendo's Wii Fit system aboard; Wii tournaments are held on giant poolside screens on the same ships that are equipped with the Movies Under the Stars program.
Internet cafes are also in place on all ships.
Itineraries
Princess Cruise Lines has an astonishing breadth of itineraries with everything from the traditional Caribbean to exotic locales that include Africa and the Far East. The company sails to all seven continents and brought back world cruising in 2008.
Princess Cruises is one of the majors in Alaska and Northwest Canada. In 2007, it had eight ships sailing the Alaskan waters, and its pre- and post-cruise land options are enormously popular. Princess Alaska cruises feature stays at one of five company-owned lodges -- near Denali National Park, on the Kenai Peninsula, in Fairbanks and on the edge of Wrangell-St. Elias, the nation's largest national park.
Princess Cruises continues to be a leader along the Mexican Riviera as well. Princess has six ships in Europe in 2008, and in 2009, Grand Princess will replace Sea Princess as the line's new U.K. flagship, sailing from Southampton to the Mediterranean from April to September.