Alaska Expedition Cruise
More information on our site about Alaska Cruises:

Alaska Expeditions
An Alaska expedition cruise provides a taste of exploration and adventure off the beaten path. On an Alaska small ship cruise, the ships are small and able to more easily visit out-of-the-way ports and scenic wonders.
A small ship Alaska cruise also puts more emphasis on education than entertainment. It is led by an expedition team, and often is staffed by scientists and naturalists who give lectures on the history and geography of the areas being visited. You will learn more about whales, bears, seabirds and seals than you ever thought possible, all from the bow of a boat as you watch the animals in question before you.
One main feature of a small ship Alaska cruise is the use of Zodiac inflatable rafts to explore the rugged shorelines. Physical dexterity is a must for those who choose one of these Alaska small boat cruises.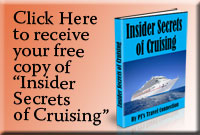 Alaska has always been a favorite choice for cruisers looking to get their feet wet in expedition cruising. There is probably no better way to see Alaska's magnificence than by taking a small ship Alaska cruise. The ships are small enough to navigate into areas where larger ships can't go, and almost always anchor overnight in remote coves so that at dawn and dusk passengers are right there to capture a glimpse of the wildlife that comes to drink or feed.
Alaska Expedition Cruise Operators
Cruise West has seven ships in Alaska for at least a portion of the season, and is one of the most well known operators of Alaskan expedition cruising. Lindblad Expeditions' Sea Lion explores the Inside Passage and is known for its family-friendly excursions and activities. For those who want more of a luxury experience, American Safari Cruises has three luxury yachts in Alaska --Safari Escape and Safari Spirit each carry 12 passengers, while Safari Quest holds 21.
Alaska Expedition Cruise Season
The primary season runs from May through August. Early and late in the season, many expedition operators extend their Alaska small boat cruises into the milder climes of British Columbia.
Alaska Expedition Cruise Activities
On an Alaska small ship cruise, it's all about getting close to nature. You can hike the glaciers, or climb into a Zodiac raft to get close to the face of a calving glacier and feel the spray from the falling ice. You can also get closer to whales than you ever thought possible, or near enough to other wildlife that you need to be sure you bring plenty of batteries for your digital camera. You can visit Tlingkit Indians in their villages and go kayaking after dinner in a twilight that lasts well into the evening.
While a majority of cruise passengers gravitate to the traditional ships, there are also those adventurers who will heed the call of the wild with an Alaska small ship cruise.