Carnival Cruise Lines
Read reviews and comment about Carnival Cruise Lines here.
Headquartered in Miami, Carnival Cruise Lines is the world's largest cruise line. Their motto of being "The Fun Ships" speaks to their emphasis on atmosphere and activity for all ages. The Cruise fleet of 22 "Fun Ships" features everything you would find in a quality land-based resort and the line has a commitment to consistently deliver fun, memorable vacations to guests.
Carnival Cruises are known as seafaring celebrations -- birthdays, family reunions, weddings and anniversaries can all be celebrated at sea on a Carnival cruise.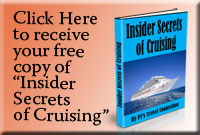 Recently, Carnival Cruise reviews have given the operator high marks for enhancing cuisine through its partnership with Michelin three-star chef, Georges Blanc. The renowned chef is developing new menu entrees and has instituted training for Carnivals Cruise Line chefs in his France-based restaurant and aboard the ships.
Carnival Cruise reviews also praise the line for developing a top-notch children's program, and expanding itinerary offerings beyond traditional Caribbean and Bahamas trips to regions like Alaska and Canada.
Carnival Cruise Line destinations include Alaska, Bahamas, Florida, Bermuda, Canada and New England, the Caribbean, Hawaii, the Mexican Riviera, the Panama Canal, and South America. This Cruise Line expanded its itinerary offerings to Europe in 2002, and has also taken advantage of the fastest growing cruise segment in the United States -- short cruises of three to five nights. Many of their ships are being redone to include updated bathrooms and children's areas, and all will offer water parks and adult serenity decks to compete with similar size vessels.
Founded in 1972, Carnival Cruise Lines is one of the world's most innovative cruise lines. In 1996, they introduced the first passenger vessel to exceed 100,000 tons. They were also the first major cruise line to operate a smoke-free cruise ship.
Carnival's standard cabins now include luxury amenities like bathrobes, and the "Comfort Bed" sleep system that features deluxe new plush mattresses, soft duvets, high quality linens and upgraded pillows.
In addition, Carnival pioneered the concept of building regional ports within easy driving distance of coastal locations, including New Orleans, Mobile, Jacksonville, Port Canaveral, Galveston, Norfolk, Baltimore, Charleston and New York. Carnival recently built a port in Long Beach, California, for sailings to Carnival Cruises Mexico destinations.
Carnival offers a vacation guarantee program that allows passengers who are unhappy to depart at the first port and get a refund. They also provide discounts to seniors via AARP.
Carnival cruise discounts are available and include three- to seven-night excursions to Mexico, the Bahamas, the eastern Caribbean, Canada/New England and Alaska. Carnival cruise discounts vary by the season and by location, so be sure to check often for opportunities to save.