Cheapest Cruise Prices
These days, the cheapest cruise prices are coming from a surprising source -- the luxury lines. There are luxury cruise lines that have cut rates on spring and summer Mediterranean sailings, Crystal cuise lines has prices starting at $2,995 for seven-night cruises and $4,585 for 12-night cruises -- roughly half the published rate. Another cruise line is offering discounts of 35-50% off summer Europe cruises.
There are always deals to be found just by looking for them. And they come and go quickly. when you see a deal that seems too good to be true, sometimes it is better to jump on it before it is gone forever.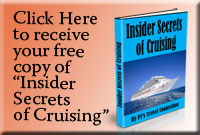 Some cruise lines are also promoting the cheapest cruise prices by discounting airfare instead of lowering cruise fares. For example, one luxury line is offering two-for-one business-class airfare on select Mediterranean and Northern Europe itineraries.
In addition, per diems on big ship cruise lines are getting cheaper. this summer, Holland America recently featured sailings in the Mediterranean during the key months of June, July and August for $130 per person, per day.
Another deal offered recently was a 13-night Barcelona to Dover trip on Norwegian Cruise Line's newly refurbished Norwegian Jade. Prices started at under $1,000, which works out to well under $100 per day.
If you're looking for the cheapest cruise prices, now is the time to try a luxury cruise. Luxury cruises present a more relaxing environment. Though the ships are smaller, there's typically more space per person, so you're never lost in a crowd. Furnishings and amenities are upscale, food and wine are world class, and even the smallest cabins have sitting areas and windows. In addition, on many luxury liners, you won't have to pay extra for gratuities, soft drinks, or alcohol.
When you factor in all the costs and benefits, you can get a much better cruise experience by upgrading to a luxury line. To take advantage of the cheapest cruise prices, you can search among the many excellent deals for fall travel, including sailings in the Caribbean, South Pacific, Asia, Central America, and the Eastern Mediterranean.
Cheap cruises to Mexico are a little harder to find since it's such a popular route; however, use our travel-related search engine or consult Affordable Budget Travel to help you find those cheap cruises to Mexico.
A cheap Alaska cruise may prove a little easier to find if you're willing to travel early or late in the season – again, check with Affordable Budget Travel. We can help you find several cruise lines that run a number of these Alaskan cruises. We are certain we can find you a cheap Alaska cruise.
Finding a cheap Disney cruise will be a challenge; your best bet is to visit our web site often to check for cheap Disney cruise deals aboard one of their two ships.
You can find the cheapest cruise prices for worldwide itineraries most easily through Affordable Budget Travel. We specialize in cruise travel; we know which markets are soft and where airfare deals or kids-sail-free offers can be found. Use our Contact Us form
ipt>