Disney Cruise Vacation
Read reviews and comment about Disney Cruise Lines here.
A Disney cruise vacation aboard the Disney Magic or Disney Wonder will take you back to bygone days of luxurious ocean liners, but with all the modern amenities. Your Disney cruise will immerse you in all things Disney, with reminders of all the characters you've come to know and love throughout the ship.
Disney Cruise Vacation Amenities
Disney cruises offer a unique experience that differentiates it from all other lines. For one thing, you won't find a casino or a library on a Disney cruise. And even though Disney cruises cater to families, there are separate places for kids, teens and adults on each ship.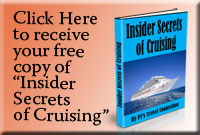 Cove Cafe is the adults-only coffee bar, located next to the pool, where parents can get away for a few minutes to relax, watch TV, or check e-mail. For the sports fan, there's Diversions, with an English sports pub-theme. A new place for teens -- called Aloft on Wonder and The Stack on Magic – caters to a younger, hipper crowd.
There are three pools – one geared to families, a pool for younger children with a 200-ft. Mickey water slide and a small sprinkler tub for toddlers, and an adults-only pool.
You'll find a surprising number of adults-only options on Disney cruises, including a northern Italian restaurant called Palo. The spa is also off-limits to kids, as are the night club options that include a piano bar, dance club and sports pub.
Disney cruises feature family cabins that accommodate six, and their roomy staterooms can handle at least four comfortably. Nearly half of the outside cabins have verandas, and all come equipped with bathtubs, TV, mini-bar, a safe and a hair dryer.
Disney cruise youth counselors organize and run a number of children's programs from the onboard Oceaneer Club (for ages 3-7) and Oceaneer Lab (for ages 8-12). These programs include high-tech interactive programs, game shows, hands-on science experiments and treasure hunts. Teens (ages 13 - 17) have their own private club with overstuffed couches and chairs, video games, MP3 listening stations, board games and magazines, as well as a bar that dispenses soft drinks and smoothies. Children's facilities are open from 9 a.m. until 1 a.m. For children under the age of 3, Flounder's Reef Nursery offers childcare services. There are scheduled Disney character visits every day, as well as some surprise visits.
Disney Cruise Vacation Itineraries
Both ships are based in Port Canaveral, but offer different itinerary options. Disney Magic sails seven-night Caribbean trips for most of the year, and in 2008 added trips to the Mexican Riviera. Disney Wonder sails three- and four-day trips, limiting its voyages to the Bahamas.
Both ships stop at Castaway Cay, Disney's extraordinary private island, featuring family and adult-only beaches. Disney cruise passengers also have the option to include a stay at a Disney World resort.
If you're looking for cheap Disney cruises, be sure to check our website for special offers. While there may be no such thing as cheap Disney cruises, you can save money by being flexible and by booking way in advance.